10th Annual Father Daughter Dance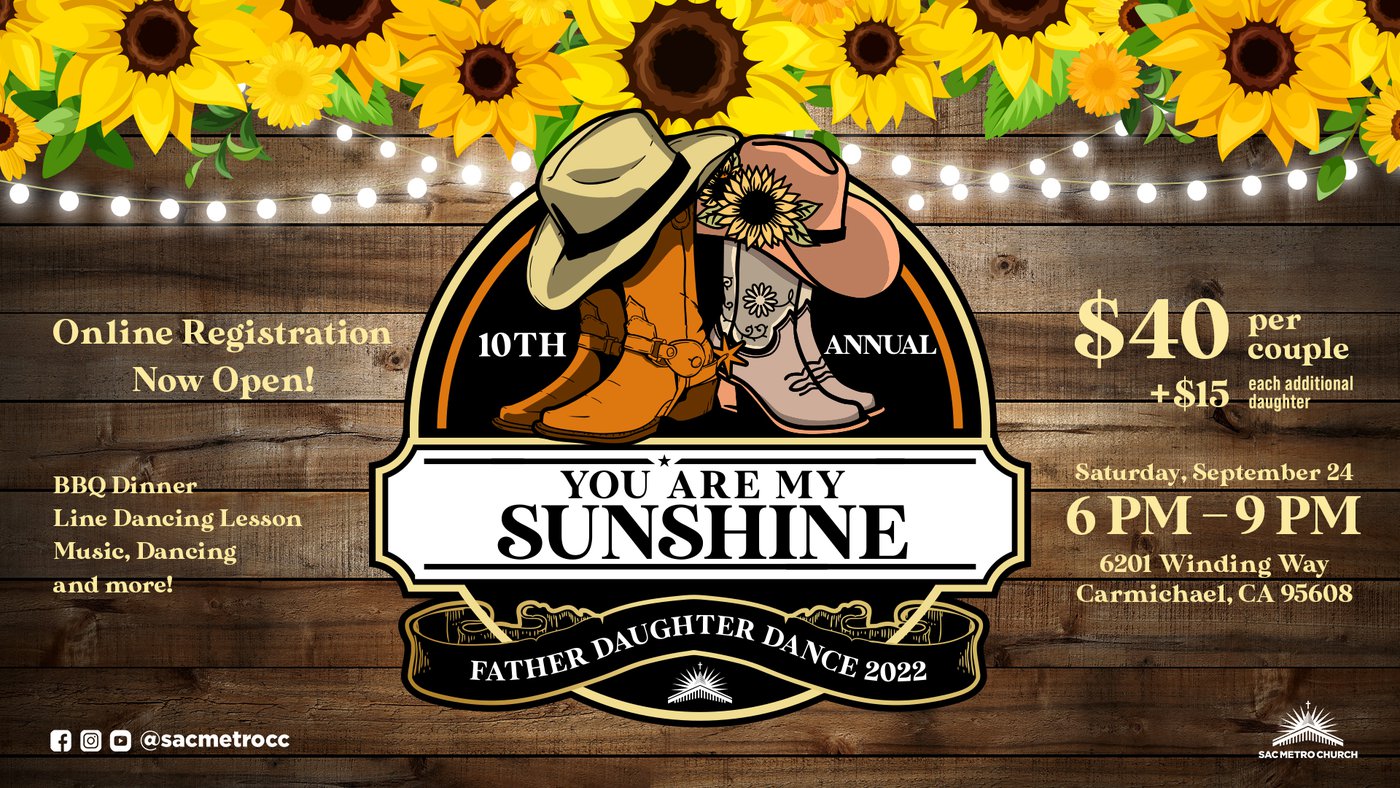 You Are My Sunshine
Heavens to Betsy! Our 10th Annual Father Daughter Dance is back in full bloom and we are excited to host you and your sunshine(s) for this long awaited, down right fun event. She'll love to get dressed up and lookin' pretty as a peach for a night out with her favorite partner!
Enjoy a hearty BBQ dinner, a line dancing lesson, music, dancing, and more! Doors open from 6pm–9pm at the Sac Metro Church building. This is one of our favorite memory making events of the season for our families and friends.
Tell you what, registration online is easy peasey lemon squeezy! Just fill out the Registration Form below and click "Submit," then head over yonder and pay for your registration below.
We're fixin' to have a good ol' time and can't wait for you and your little darlin' to come and dance 'til the cows come home.
---
Registration Form
---
Registration Payment
$40 per Father Daughter Couple
+ $15 for each additional daughter
Click the "Register Now!" button below to pay for your registration. You will be prompted each step of the way beginning with your payment amount. Instructions are provided below if needed.
---
payment instructions
Using our payment platform on our website:
First, calculate your total registration cost i.e. $40 for one father/daughter couple, $55 for one father/first daughter and one additional daughter, etc.
Select "Father Daughter Dance 2022" as the payment designation
Next select "Just this once" for your payment of this event
Then designate when you want your payment to be charged
Followed by your choice of card to directly from your bank account.
Important info about using our online payment platform:
Giving through your bank account using Plaid is free of charge and is our recommended way of for all all our online transactions.
There is a fee of 1.9% for paying with debit or credit card. We recommend avoiding the fee and give directly from your bank account by clicking "Bank Account" followed by the "Link Account Using Plaid"
Our online payment platform on our website is secure and confidential and does not save any of your bank data. The "Link Account Using Plaid" option allows you to log into your bank account directly from the registration flow to easily make an ACH payment at no extra cost! It's pretty sweet.
If you have any questions please feel free to contact us at hello@sacmetro.church